NEW
IMPREX® PRIME
Posbank presents a new edition of the IMPREX® series, IMPREX® PRIME. It represents the latest design and technological innovation that you would expect from all-in-one form factor. Built for innovative and stylish design, robust performance and maximum reliability, the IMPREX® PRIME is simply the ideal choice to empower business and enrich consumer experiences in various retail and hospitality environments.
AnyShop II
This latest addition to the POSBANK product line sets forth a new standard by offering a sleek, modern, aesthetically pleasing design that doesn't compromise on features and performance.
ANYSHOP e2
The ANYSHOP e2 also boasts the ability for easy filed servicing and upgrade due to its ground breaking modular design that allows hassle free RAID upgrade and adding additional side USB ports a breeze.
BLUO
BLUO is a compact POS System designed for today's business environments. It's practical, unique design is a perfect combination of form and function. BLUO serves optimum convenience by making easy access to I/O ports on the upper part of the monitor. BLUO has a sturdy, functional space that offers superior cable management by putting system cables inside it.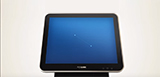 IMPREX® PRIME

AnyShop II

ANYSHOP e2

BLUO