RMA Service Process



RMA request form is required to assign a RMA. Send an e-mail including below linked RMA REQUEST FORM to POSBANK.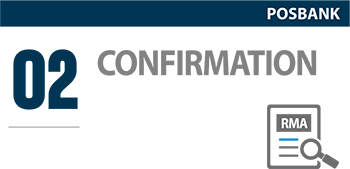 RMA confirmation will be accomplished by e-mail after checking whether parts are WARRANTY IN or OUT. Expected service charge & freight for parts out of warranty will be informed to the customer.
---




Final RMA REQUEST FORM should be sent to the person in charge after selecting parts to be repaired or replaced by POSBANK. Selected parts should be required to be packed with one copy of RMA REQUEST FORM when customer ship out the parts.

1) PARTS IN WARRANTY
- The customer is responsible for paying shipment charges when returning the parts to POSBANK. POSBANK will pay for ocean freight of the repaired or replaced items back to the customer. If the customer wants to get the parts via AIR etc., the cost will be customer's duty.

2) PARTS OUT OF WARRANTY
- Two-way shipping expenses will be paid by the customer.







Returned parts will be repaired or replaced to a new one. Proforma Invoice will be sent to the customer for requesting payment if there's additional charge for repair or replacement. The repaired or replaced parts will be back to the customer.
---




After returning shipment to the customer and getting a confirmation from the customer that the parts are in good condition, Posbank will close RMA procedure.

---